SELF DISCOVERY x SKILL DEVELOPMENT
Strive's tech-supported executive coaching platform will challenge you to achieve your professional potential
HELP YOUR TEAM ACHIEVE AMBITIOUS GOALS
MATCH AND MEET WITH YOUR EXECUTIVE COACH
You will receive a few coach matches based on your background and preferences. Select one and meet with them to discuss your experiences, values, and goals.
CREATE YOUR PERSONALIZED LEADERSHIP DEVELOPMENT PLAN
Based on your coaching conversation and 360 results, you will identify a few areas to work on in the months ahead.
COMPLETE 3-5 ONE MONTH-LONG LEARNING MODULES
Each learning module will last approximately one month. You will meet with your executive coach once or twice during that window. Your coach will assign you lessons, readings, assignments, reflection prompts, and other similar exercises to complete independently or with an accountability buddy during that period. Your coach will also give you asynchronous feedback on your work and progress.
Complete a self and 360 assessment about your professional personality and leadership skills. Sharpen your self-understanding by comparing your perception with your peers' opinions.
GREAT LEADERS ARE BUILT, NOT BORN
Everyone's leadership style and challenges are unique. Your leadership development path is personalized based on your 360 assessment, and your lessons are targeted to the challenges you're facing week-to-week.
Strive's team built best-in-class educational programs at Google, YouTube, LinkedIn, and Minerva. Strive's skill development pulls from those experiences, incorporating the latest research on the science of learning and development to ensure that what you learn sticks.
Strive's programs are affordable for emerging leaders. We meet you where you are, using your world as the classroom and your challenges as the curriculum.
STRIVE'S 360 – YOUR LEADERSHIP LAUNCH POINT
To kickstart your leadership development, you will complete Strive's 360 assessment. You will receive feedback from peers, reports, and your manager about your professional personality and current leadership skills, comparing the results to your self-assessment.
You will review these results with your coach and create a personalized plan for leadership development based on where you need to improve.
LEADERSHIP SKILLS SUMMARY
POSITIVE PERSONALITY TRAITS
NEGATIVE PERSONALITY TRAITS
Once you complete your 360, you will meet with your executive coach to develop a personalized leadership development plan. You will choose 3-5 of the below learning modules, and then spend ~one month / module working on those skills and sub-skills.
CRITICAL CONVERSATIONS
MANAGER AS A COACH, NOT A BOSS
CAREER DEVELOPMENT
ESTABLISHING AND MAINTAINING HIGH STANDARDS
PUBLIC PRESENTATION
MANAGING UP
WORKING CROSS-FUNCTIONALLY
MANAGING CONFLICT
THE NUTS AND BOLTS OF MANAGEMENT
EFFECTIVE 1:1s
RUNNING MEETINGS
SETTING OKRs
DELEGATING VS MICROMANAGING
HIRING
DIVERSITY AND INCLUSION
BUILDING A HUMAN CONNECTION
TEAM CULTURE
RESOLVING INTRA-TEAM DISPUTES
STRATEGIC THINKING & PRIORITIZATION
RESOURCE ALLOCATION
PROJECT MANAGEMENT
COMMUNICATING THE MISSION AND VISION
Once you complete each learning module, request updated feedback from your team. This feedback will help you track your progress, understand what's working, and learn how you can still improve.
​
Note: This is the case for both Triangles and Coaching.
ALL YOUR LEARNING IN ONE PLACE
After you receive your 360 results, you will select the skills you want to work on. Selecting a skill adds the related Skill Playlist to your Learning Hub. From your Learning Hub you can easily access all readings, exercises, assignments, and reflections in one place.
Note: This is the case for both Triangles and Coaching.
ADD SKILLS TO YOUR LEARNING QUEUE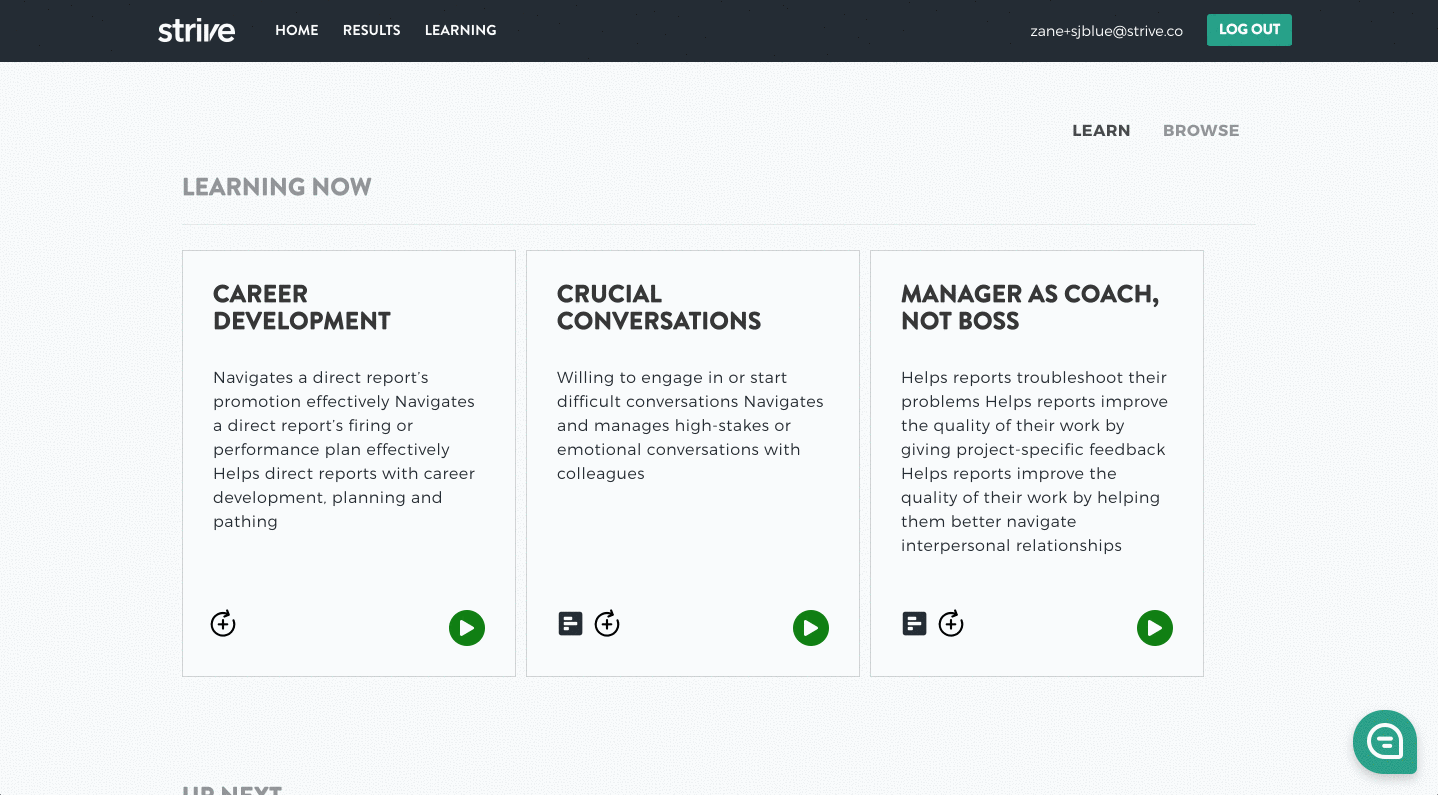 ACCESS ALL SKILL PLAYLISTS IN ONE PLACE
Desmond Mitchell is an executive and leadership coach who has worked with everyone from ICs to execs, solo, and as a group. He has worked with people at Slack, Stripe, Gusto, Spotify, and more. He has also built design thinking organizations internationally and has a background in business, education, and diversity and inclusion consulting.
Brooks was the Manager of Operations for the Executive Protection Team for the CEO and COO of Facebook, Supervisor on the protection team for 2 of the last 3 Governors of New Jersey, and current Executive as the Vice President of Safety Operations for a $6.5 billion dollar cybersecurity company. Brooks coaches executives, managers, and employees at the company on how to be better managers of themselves and of other people.
Dr. Villarreal's training and expertise is multidisciplinary, spanning across executive leadership coaching, cognitive neuroscience, clinical and organizational psychology. She has also worked as a professor at UC Berkeley and Holt Business School teaching interpersonal communication and conflict management.
Bernadette is an author and leadership coach. After Stanford, she launched products as a product marketing manager at Google and a product manager at MoPub, acquired by Twitter. She shares her story in her book, Something More: A Working Professional's Search for Creativity, Purpose, and Peace, a finalist in the 2018 Next Generation Indie Book Awards.
Lisa has formed and led teams across a diverse range of industries (human rights, nonprofits, advocacy organizations, for-profits, startups) and settings (Washington, DC; Rwanda; Burkina Faso; Charlottesville, VA; and San Francisco, CA). Most recently, Lisa led marketing and product management teams in the ed tech industry. Lisa has an MBA and Masters in International Affairs from Georgetown University.
Catherine is a holistic leadership coach who helps individuals and teams come alive while enjoying the journey. Equally comfortable working with engineers or teaching yoga, her approach blends right and left brain techniques. Most recently, she has led various digital marketing and product management teams at Blue Apron, Digital Ocean, Fab.com, and Microsoft.
The majority of coaching calls take place over videoconferencing, but in-person and phone are also options based on your schedule and interest.
You will meet with your coach for 45m every other week over the course of the 4-6 months you're going through the program.
The cost of the program will vary based on the number of learning modules studied and frequency of meeting, but we expect it to be $2,000-5,000.
Are you interested in combining self-discovery and skill development to become the best leader and manager you can be?
Take the first step by sharing your information below and someone from Strive will be in touch to discuss the experience further.
Questions? You can enter them on the form below and we'll get back to you with an answer.